Italian language classes
at all levels
Electives taught in English
Out-of-classroom learning and assignments
Live with a local student or in a homestay with an Italian host family
Experience the Palio horse race
New beginning Spring 2022: Computer Science electives
Siena offers a cultural experience that other Italian cities simply cannot provide. Students enjoy the tight-knit local community, a flexible curriculum to suit different interests, and ample opportunities to explore not only their own backyard, but all of Italy and Europe.
You take one or two semesters' worth of Italian language and one or two electives for a total of 9 to 11 recommended credits. 
Option one: 1 semester's worth of Italian Language + 2 electives
Option two: Two semesters' worth of Italian language + 1 electives
You take one or two of these language courses depending on your curriculum choice. 
Note: Each course covers one semester's worth of Italian language. 
Choose one or two 3-credit electives for a total of 9 to 11 recommended credits (including your language course):
New! Computer science electives beginning Summer 2022. Learn more.
Decide how much Italian you want to take on. Choose two semesters' worth of Italian for eight weeks of intensive language learning. If that's not for you, opt for one semester's worth over four weeks. Either way, your language class equips you with the tools to better engage with Italy. And in a city like Siena, language practice can happen anywhere—when class is out, use your language skills to connect with the community all around you. The result? Your Italian will improve by leaps and bounds.
Choose one elective from a long list of possibilities. Support your major or embrace your passion. Studying finance? Enroll in Special Topics in International Relations: The European Banking System. Learn about ancient history at the source with Roman Art and Archaeology. Majoring in Computer Science? Sign up for Introduction to Programming or Operating Systems. Your summer in Siena is up to you.
Because of precautions CET is taking related to COVID-19, your housing experience will look different from standard programming. Please see the COVID playbook page for more information. 
You can share an apartment with CET peers and an Italian roommate, or live with a local family. Both arrangements give you independence and instant community—chat about Italian politics with your host mom, go grocery shopping with your roommate. For meals, cook for yourself or try Siena's many restaurants and cafés. (And if you select a homestay, enjoy home-cooked breakfasts and dinners with your family.)
Live with an Italian Family
See how a family birthday is celebrated in an Italian home. Watch TV with your host dad and cheer on his favorite soccer team. Get your host mom to teach you the secret to making her delicious marinara sauce. Living in a homestay gives you a chance at true immersion and exchange. Your host family will love learning about your culture, and more importantly, they will love sharing theirs with you.
Live with a Local Student
You can learn everything you need to know about Italian college life from a local roommate. How to haggle at the mercato (market). The latest slang. The best gelato shops. Roommates are local university students selected by CET. If you choose this option, you'll share your apartment with other CET students and one local roommate.
If you stay in a homestay, you eat breakfasts and dinners with your family. For other meals, or if you stay in an apartment, cook for yourself or take your pick of Siena's many restaurants and cafés offering mouthwatering food. Don't forget to try the gelato in Piazzo del Campo or the pizza at restaurants and cafes.
See your neighbors at the open-air market. Go for a run in the countryside outside the city walls. You'll make daily discoveries about the local culture, whether you're people-watching in the Piazza del Campo or exploring the picturesque side streets of the historic city center. Though your travels may take you far from Italy on the weekends, you'll always be glad to return home to Siena.  
Take a day trip to Montepulciano to enjoy the views. Or spend the weekend on the beach at Cinque Terre.
On a quiet weekend, venture just outside the Siena city walls with some friends, biking along the old pilgrim road of Via Francigena.
You won't run out of ways to enjoy Siena and surrounding Tuscany with your CET peers and Italian roommates.
One of the most exciting parts of a Siena summer is the Palio. The centuries-old Palio horserace is Siena's claim to fame. While Italian tourists flock to the city to see the action, you'll already be there, waiting for the races to begin. You'll learn about the Palio in your Italian language classes, and you'll have plenty of opportunity to choose your favorite contrada (neighborhood). If you opt for a homestay, you will have the rare chance to "live the contrada life'" and cheer for your local banner alongside your family.
Emiliana Caldarelli
Director of Italy Programs
Victoria Van Luit
Siena Program Director
Of the total program fee, $7,340 goes to tuition and fees, and $2,050 goes to housing and other student life fees.
Estimated
Out-of-Pocket
Costs
Open to students from any US college or university


GPA: 3.0 or higher preferred, but admissions decisions are made on a case-by-case basis; lower GPAs still encouraged to apply


Open to all levels of Italian language speakers
CET reserves the right to increase quoted charges at any time without prior notification, based on increased instruction costs, exchange rate fluctuation or other cost increases beyond CET's control.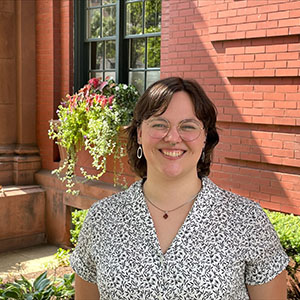 Have a question? Get in touch!