Take 1 or 2 semesters worth of Italian
Electives taught in English
Out-of-classroom learning and assignments
Live with a local student or in a homestay with an Italian host family
CET Siena students are looking for a meaningful Italian immersion experience in a country where that isn't always easy. Build the intellectual foundation for understanding, engaging with, and appreciating the city of Siena and Italian culture.
You take one or two semesters' worth of Italian, and three or four electives to meet the total 15 to 17 recommended credits.
Option one: 1 semester's worth of Italian Language + 4 electives
Option two: Two semesters' worth of Italian language + 3 electives
You take one or two of these language courses depending on your curriculum choice. 
Whether your focus is banking, politics, or cinema, you won't fall behind in Siena. Studying media? Enroll in Evolution of the Media in Italy: From Unification to the Present. Fulfill a computer science requirement with Computer Architecture or Database Systems. Or try something uniquely Italian: what better place to enroll in Italian Cultural History, or a class devoted to Sienese Art and Architecture? Your electives might just be the most rewarding part of the whole experience.
Take As Much Italian As You'd Like
You have options for Italian language learning. Want more credits? Choose 2 semester's worth of Italian over 15 weeks. But if that's not for you, take 1 semester's worth of Italian in 8 weeks. No matter what you choose, in Siena you'll have the chance to practice your Italian every day—in class, with your Italian roommate, with your host family, or just out in the city. Your Italian will improve by leaps and bounds. Period.
Because of precautions CET is taking related to COVID-19, your housing experience will look different from standard programming. Please see the COVID playbook page for more information. 
You can share an apartment with CET peers and an Italian roommate, or live with a local family. Both arrangements give you independence and instant community—chat about Italian politics with your host mom, go grocery shopping with your roommate. For meals, cook for yourself or try Siena's many restaurants and cafés. (And if you select a homestay, enjoy home-cooked breakfasts and dinners with your family.)
Live with an Italian Family
See how a family birthday is celebrated in an Italian home. Watch TV with your host dad and ask him his views about Italian politics. Get your host mom to teach you the secret to making her delicious marinara sauce. Living in a homestay gives you a completely immersive experience. Host families love learning about your culture, and more importantly, they love sharing theirs with you.
Live with a Local Student
You can learn everything you need to know about Italian college life from a local roommate. Learn how to haggle at the mercato (market). Ask them to show you their favorite beach or thermal spring, depending on the season. Go on a picnic to their favorite spot in Tuscany.
Roommates are local university students selected by CET. You share your apartment with other CET students and one local roommate.
If you live in a homestay, you eat breakfasts and dinners with your host family. For other meals, or if you stay in an apartment, cook for yourself or take your pick of Siena's many restaurants and cafés offering some of the best dishes in Italy.  Make sure to try the favorite local pasta, pici al cinghiale (pasta with wild boar sauce), and ribollita (soup with bread and vegetables).
It's no wonder Siena is a crowd-favorite—with its beautiful cityscape, impressive food scene, and close-knit community feel, it's hard not to love this Tuscan city. Converse with friendly locals in Italian and discover the deep connection residents have to the city and their contrada (districts with origins dating back to medieval times). Bump into your neighbors at the open-air market. Stroll down winding brick alleyways. Enjoy cantucci con vinsanto (biscotti with dessert wine). 
Take a day trip to Montalcino to enjoy the views. Or to Foiano della Chiana to experience the incredible floats of the oldest Carnevale celebration in Italy. On a quieter weekend, venture outside the city walls for a run in the countryside. Visit the duomo (cathedral). Take a CET-sponsored Italian cooking class. You won't run out of ways to enjoy Siena and surrounding Tuscany with your CET peers and Italian roommates.
A Weekend Away in Bologna
Day 1

:
 Arrive in Bologna. Visit FICO Eataly World with a guide and try your hand at cooking Italian cuisine. 
Day 2

:
Travel to Ravenna and spend the day taking in its beautiful Byzantine mosaics alongside a local guide. 
Day 3
: Visit an
Acetaia
and understand the art of making balsamic, followed by a
parmigiano
and
aceto
tasting. In the afternoon, see the Ferrari Museum and enjoy free time before returning to Siena.
Consider giving back to the community that is hosting you. We can arrange for you to help out in many ways, including opportunities to teach English at a local school, help out at a youth home for migrants and refugees, or assist the local volunteer ambulance group. We work with you to find experiences that match with your interests and eventual goals.
Emiliana Caldarelli
Director of Italy Programs
Victoria Van Luit
Siena Program Director
Matilde Santini
Siena Program Coordinator
Of the total program fee, $15,990 goes to tuition and other fees, $4,000 goes to housing and other student life fees.
Estimated
Out-of-Pocket
Costs
Open to students from any US college or university


GPA: 3.0 or higher preferred, but admissions decisions are made on a case-by-case basis; lower GPAs still encouraged to apply


Open to all levels of Italian language speakers
CET reserves the right to increase quoted charges at any time without prior notification, based on increased instruction costs, exchange rate fluctuation or other cost increases beyond CET's control.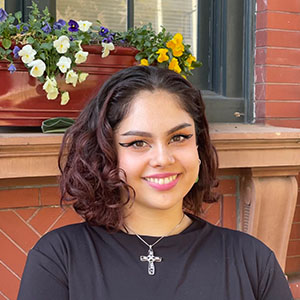 Have a question? Get in touch!