Electives for many different majors
Optional Italian language classes for all levels
Out-of-classroom learning and assignments
Live in an apartment with peers or a homestay with a local family
Classes as engaging as those of your home university
CET Florence students are motivated learners looking for engaging summer abroad on their terms. And in a city with plenty of study abroad options to choose from, CET Florence is one of the smallest programs you'll find. That means more individual attention for you. Have a question about your apartment? Want to volunteer? Need help finding a doctor? Staff go the extra mile for students. You'll have everything you need for an exceptional summer.
Choose between three different curriculum options to tailor your summer and meet a total 6 recommended credits.
If you choose to take Italian, you are placed into one of these 3-credit courses according to a placement test or previous coursework you have completed. 
Whatever your major, your classes will keep you challenged and inspired as you fulfill credit hours back home. Already met all your requirements? Try an elective that's distinctly Italian. Embrace Florentine culture by taking Renaissance Art & Architecture—it meets at least half the time in a museum, church, or piazza. A chef introduces you to Tuscan delicacies in Food & Culture in Italy. Learn about Italy's most influential family through The Medici: History and Legend of an Italian Dynasty. 
Florence is known for easy living, but that doesn't mean easy A's. In fact, CET Florence is known for offering academics as rigorous as what you're used to in the US. Your courses challenge you. Your professors push you during in-class discussions. Your assignments ask you to think critically. You'll leave Florence with so much more than pictures and souvenirs…you'll leave with new knowledge and a global perspective that will serve you for a lifetime.
Because of precautions CET is taking related to COVID-19, your housing experience will look different from standard programming. Please see the COVID playbook page for more information. 
Living in the historical city center, apartments might be different from what you're used to in the US—buildings are simple, older, and vary in shape and layout. But the location can't be beat… everything you need is within walking distance and your commute to class is beautiful. You can also opt to live in a homestay and live like a true Florentine. You'll be in the downtown area, but away from the tourist-heavy centro storico. You'll have your own bedroom and share common spaces (and best of all, mealtimes) with your family.
One of the best parts of studying abroad is making friends while exploring a new country. Visit a medieval monastery and then share dinner with the your cohort at orientation. Roll up your sleeves and learn the art of making a new pasta dish—a useful skill for at-home dinners with your new roommates. Go hiking in Fiesole one week, and then enjoy a
panini
with friends at Piazzale Michelangelo the next. It won't be long before Florence is your new home away from home. 
Have your fill of some of the most famous cuisine in the world. You'll love the pastas, the sauces, the hors-d'oeuvres. On a budget? Try ribollita soup, made with bread, kale, cannellini beans, and vegetables. Feeling adventurous? Grab a tripe sandwich topped with salsa verde from a street vendor…a Florentine classic. And don't forget the gelato after dinner. 
There's so much to see and do in Florence, from climbing the Duomo to chatting with locals over a cappuccino. Pack up your favorite foods for a picnic in the Tuscan countryside. Sketch your favorite sculpture. Enjoy an aperitivo with local Italians. And when Friday comes, explore the rest of Europe from your Florentine home base. The only drawback to living in Florence is that every other place you live will pale in comparison.
Each term, the program offers different extra-curricular activities that allow you to explore, experience Italian culture, or just unwind. 
Take a pizza-making class. Head to the beach at Viareggio on a sunny day. Enjoy opera night at the Teatro el Maggio Musicale Fiorentino… in Italian!
And there's even more to see on your own or with friends—climb the Duomo's cupola for a view of the city, shop alongside locals at Mercato Centrale or Sant'Ambrogio, or go for a scenic walk along the Arno River.
As a CET Florence student, you can opt to volunteer for four hours a week with a local organization. Interested in history or architecture? Become a tour guide in some of Florence's oldest churches with Ars et Fides Florence. Get to know some of the local children by volunteering with Canadian Island. Make the most of your summer abroad by giving back to the community that hosts you.
Emiliana Caldarelli
Director of Italy Programs
Shauna Kavanagh
 Program Coordinator
Of the total program fee, $5,890 goes to tuition and fees, and $2,100 goes to housing and other student life fees.
Estimated
Out-of-Pocket
Costs
Must be 18 or older at the time of program participation.
Open to students from any US college or university
GPA: 3.0 or higher preferred, but admissions decisions are made on a case-by-case basis; lower GPAs still encouraged to apply
Open to all levels of Italian language, from absolute beginner to advanced
CET reserves the right to increase quoted charges at any time without prior notification, based on increased instruction costs, exchange rate fluctuation or other cost increases beyond CET's control.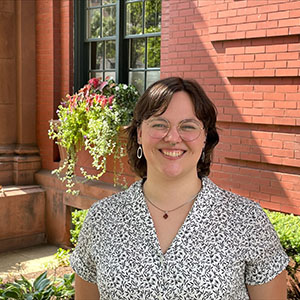 Have a question? Get in touch!