Electives for many different majors
Italian language classes for all levels
Out-of-classroom learning and assignments
Live in an apartment with peers or a homestay with a local family
Classes as engaging as those of your home university
CET Florence students are motivated learners looking for a study abroad experience with challenging academic content and enriching extra-curricular activities. You take one Italian language course and after that, it's up to you—check required classes off your list or try something new and uniquely Italian. 
You take 3 credits of Italian language and three or four electives to meet a total of 12 to 15 recommended credits. 
You are placed into one of these 3-credit courses, according to a placement test or previous coursework you have completed.
Choose three or four 3-credit electives to meet the total of 12 to 15 recommended credits (including your language component).
Take classes that fulfill major requirements back home. Try Cross-Cultural Psychology for psych credits or International Marketing for business majors. Interested in something uniquely Italian? Try Italian and European Politics or Italian Cinema. And you won't just be in the classroom—many classes have field-based components in the city. Art history classes have at least half their sessions in a museum, church, or piazza, while Food and Culture in Italy students learn cooking methods from a local chef at a family-run trattoria. 
Florence is known for easy living, but that doesn't mean easy A's. In fact, CET Florence is known for offering academics as rigorous as what you're used to in the US. Your courses challenge you. Your professors push you during in-class discussions. Your assignments ask you to think critically. You'll leave Florence with so much more than pictures and souvenirs…you'll leave with new knowledge and a global perspective that will serve you for a lifetime.
Because of precautions CET is taking related to COVID-19, your housing experience will look different from standard programming. Please see the COVID playbook page for more information. 
Living in the historical city center, apartments might be different from what you're used to in the US—buildings are simple, older, and vary in shape and layout. But the location can't be beat… everything you need is within walking distance and your commute to class is beautiful. You can also opt to live in a homestay and live like a true Florentine. You'll be in the downtown area, but away from the tourist-heavy centro storico. You'll have round-the-clock immersion as you share meals and common spaces with your Italian host family for the semester.
One of the best parts of studying abroad is making friends with locals. Engage in some friendly competition during a basketball or soccer tournament with classmates and some locals. Not into sports? Befriend a University of Florence student at one of CET's aperitivi (a happy hour with appetizers). Or have dinner with a local family for a night of cultural exchange. Not only will you have a better grasp of local culture, but you'll also get to flex your Italian language muscles.
Have your fill of some of the most famous cuisine in the world. You'll love the pastas, the sauces, the hors-d'oeuvres. On a budget? Try ribollita soup, made with bread, kale, cannellini beans, and vegetables. Feeling adventurous? Grab a tripe sandwich topped with salsa verde from a street vendor…a Florentine classic. And don't forget the gelato after dinner. 
There's so much to see and do in Florence, from climbing the Duomo to chatting with locals over a cappuccino. But the rest of Italy and all of Europe are at your doorstep, too. Each Friday morning, head to a new destination—check out the art scene in Berlin, find the best baguette in Paris, explore the Italian coast, from Cinque Terre to Amalfi. The Italian train system couldn't be easier, and the airport is just 30 minutes away. Buon viaggio!
Each term, the program offers different extra-curricular activities that allow you to explore Florence, experience Italian culture, or just unwind with your friends. Hike in the beautiful Chianti region. Take a day trip to Viareggio or Bologna. Learn the art of pizza making. And there's even more to see on your own or with friends—watch the sunset from Piazzale Michelangelo, explore hidden gems around the city, or shop like the locals do at Mercato Centrale or Sant'Ambrogio.
Let us check must-see Rome off of your travel checklist! You'll take a three-day trip with us to Rome. Tour the Vatican, explore the Roman Forum, make a wish in the Trevi fountain. We handle the logistics, and we make sure there's plenty of free time built in…for exploring, tasting, or simply finding a quiet corner to sit and enjoy the beauty.
As a CET Florence student, you can opt to volunteer for four hours a week with a local organization. Interested in history or architecture? Become a tour guide in some of Florence's oldest churches with Ars et Fides Florence. Get to know some of the local children by volunteering with Canadian Island. Make the most of your semester abroad by giving back to the community that hosts you.
Emiliana Caldarelli
Director of Italy Programs
Elizabeth Johnson
Resident Director
Donatella Cerretelli
Housing Coordinator
Margarita Degurko
Program Assistant
Shauna Kavanagh
Senior Program Coordinator
Gabriele Marchese
Program Assistant
Melissa Rossi
Academic Coordinator
Of the total program fee, $18,290 goes to tuition and fees, and $4,100 goes to housing and other student life fees.
Estimated
Out-of-Pocket
Costs
Must be 18 or older at the time of program participation.
Open to students from any US college or university
GPA: 3.0 or higher preferred, but admissions decisions are made on a case-by-case basis; lower GPAs still encouraged to apply
Open to all levels of Italian language speakers
CET reserves the right to increase quoted charges at any time without prior notification, based on increased instruction costs, exchange rate fluctuation or other cost increases beyond CET's control.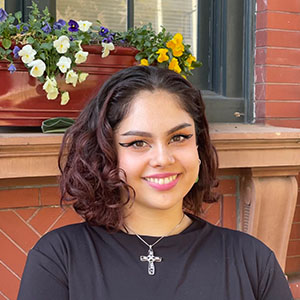 Have a question? Get in touch!