Photos taken by Madeline Warren  (University of Wisconsin- Madison), Student Correspondent for CET Florence, Spring 2023
Duomo
My first view of the Duomo. Having never traveled outside of the US, I have never seen anything as grand or ornate as this. I never realized how large it was and I was in complete and utter awe. Our CET orientation was in the Duomo auditorium just down the street!
---
First Excursion to Castello di Verrazzano
After a few days of orientation, CET took us to Castello di Verrazzano, which is about a 35-minute bus ride from Florence. We went on a tour of the wine cellars and were given samples of wine, cheese, bread, and pasta. The winery overlooked the rolling hills of the surrounding area and offered many great photo opportunities.
---
The Uffizi Gallery
Upon my arrival, I had no idea that I would be able to walk past this beautiful building every day on my way to class. While I haven't been inside yet, my Renaissance Art History class will take us on a tour of the gallery sometime during the semester.
---
Ponte Vecchio
Since my apartment is on the south side of the bridge, I have had many opportunities to cross this beautiful bridge.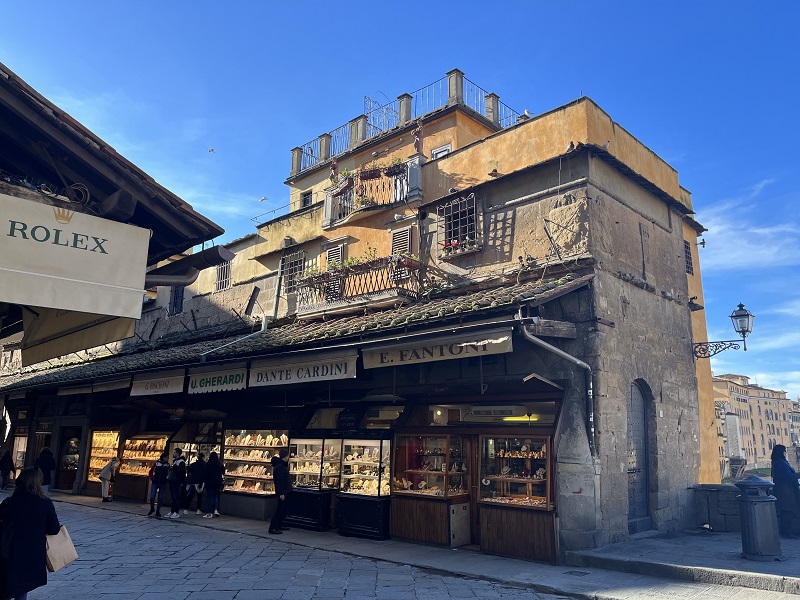 One of the many gold shops on Ponte Vecchio. I walk across this bridge every day on my way to class. It is very tempting to stop and look at all the bright and shiny jewelry!
This was one of my favorite shots of Ponte Vecchio, as it explores how the light reflecting off the Arno River can light up a space. I took this photo during my UW Traces of Past Lives course, where our professor had us stop to look around the iconic bridge.
---
Along the Arno River
On my walk to one of the CET class buildings, I follow along the Arno River and have the most amazing view of the Uffizi Gallery. My apartment is on the south side of the river, so my walk to class is only fifteen minutes.
While in my UW Traces of Past Lives class, which is taught by a University of Wisconsin- Madison professor, we walked along the Arno to learn more about the history of the bridges and of the massive floods that occurred in the past. I made my class stop so I could snap a quick picture!
The Arno at night is a spectacular sight to behold. I stood on this bridge for a few moments just looking out at Ponte Vecchio and enjoying the sounds of the people walking past.
---
This shot was another view from our kitchen window. Florence always seems so sunny and colorful. I always find myself looking out this window while sitting at the kitchen table. I wanted to capture the beautiful effect of the light contrast.
---