Written by George Padron (Vanderbilt University), Student Correspondent for CET Siena, Fall 2023
How I chose the CET Siena program
One of my biggest dreams since I was a child was to travel the world. I grew up in a suburban town in southwest Florida where there was little to see or do. Exhausted by all the tall grass and flat landscapes typical to my hometown, and I yearned for more. I yearned to see mountains, valleys, and interesting places with actual history—I wanted to experience something more. So when my Computer Science lecture was interrupted by students advertising a program for Siena, Italy with classes for my major, I knew what I had to do. 
As soon as I could, I rushed to make an application and sign up for this new program. I had to jump through a few hoops— namely, the fact that I didn't even have a valid passport yet, but I came through the end of it. Just last week, I was finally boarding the airplane to Europe and leaving my hometown behind. I was excited and ready for a new adventure, to meet new people, and to know a whole new world. But I don't think I was truly ready for how different it would be.
The Beauty in my Life and Siena
My time in Italy so far has certainly been an eye-opening experience. It has challenged me and my beliefs in ways I could not have even comprehended only a few weeks ago. To be completely honest, I was not prepared for how much my life would change entirely and utterly coming into this new experience, so let me share some of the things I experienced so that they don't catch you off guard as well.
Perhaps though, something that won't surprise you is the beauty of Italy. My previous semester had given me a wonderful view of a big brick wall, so I didn't have much expectations for what I was going to be given for room and board in this semester. So imagine my shock when the view from my window is just so perfect. A stream of buildings flow out towards the horizon until they empty out into the beautiful endless sea of tuscan hills and valleys. I've never had a more beautiful view in my life— and that was just the view from my room.
The city streets of Siena are among the most beautiful and ancient in the world. Siena is a city that was established around the medieval and early Renaissance periods of Europe, and it is one of, if not the most, well-preserved medieval cities in the entire world. The entire city feels like one is at a theme park like Disneyworld— except instead of plaster and cheap facades, it's real, authentic history. And while that can feel amazing at first, it comes with some downsides.
Some Adjustments to Life Abroad
As an American coming over to Europe for the first time, I needed to adjust to many things. Some things were small, like the Euro not having a 1 dollar bill equivalent and instead using coins for values less than 2 dollars, or how in Europe taxes are not tacked onto the final price of a purchase, unlike in the US. Some things are very big, like getting used to not having an AC in the house and instead having to open the windows at night to get even a sliver of small air to enter the house.
The absolute biggest thing I've had to adjust to, however, is the language barrier. As a Hispanic, I got a little bit cocky before coming over here because Italian as a language looks and sounds very similar to Spanish. I assumed I'd be able to pick up the language quickly or even blend in with the locals with my Spanish knowledge. But I couldn't have been more wrong.
Although there are a lot of superficial similarities, the Italian and Spanish languages are two distinct languages, and learning how to speak and communicate properly through the language barrier has been a struggle. Luckily, almost everyone I've met here has been able to understand me and communicate well enough with either English, Spanish, or the little broken bits of Italian I've picked up in my first week or so. But, trying to form a deeper connection with the locals has proven more challenging.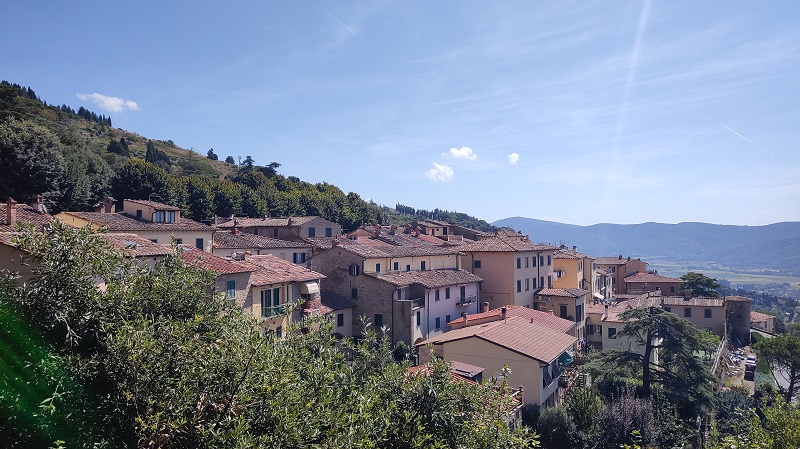 Despite all the hurdles, I do believe that this experience has been truly eye-opening and positive for me. I've only been here for about a week and a half, but I see my life— both the way it was now and the way it was before— in a new light.