Written by Eden Comer (University of Wisconsin-Madison), Student Correspondent for CET Florence, Spring 2023
For my post this month, I wanted to share what a typical day in my life looks like, as it was what I was most curious about before coming to Florence for the semester. It's midterms week, so my days look a bit different than usual. I have a little more time for activities other than classes and thought it might be fun to share what I do throughout my day.
---
9:00 AM
My alarm went off this morning at around 9 am. Normally, I have to wake up closer to 7:30 am in order to make it to my 8:30 am classes. However, since this week is midterm week, I get to sleep in a bit later. I got up and dressed and made myself an espresso with my Moka pot to start the day.
10:30 AM
Right away, my friends and I headed off to study. Today, we decided to go to the Biblioteca Delle Oblate. This is a gorgeous spot to get some studying done. They have both inside quiet areas, and outside areas gardens and benches for reading, or just people watching. We chose to sit in the café today, which has an amazing view of the Duomo through the windows. The café was busy, and there were plenty of other abroad students in my program studying there as well. I ordered a macchiato and a pistachio croissant (for only 2.78 euros!) and got started on preparing for my upcoming exam.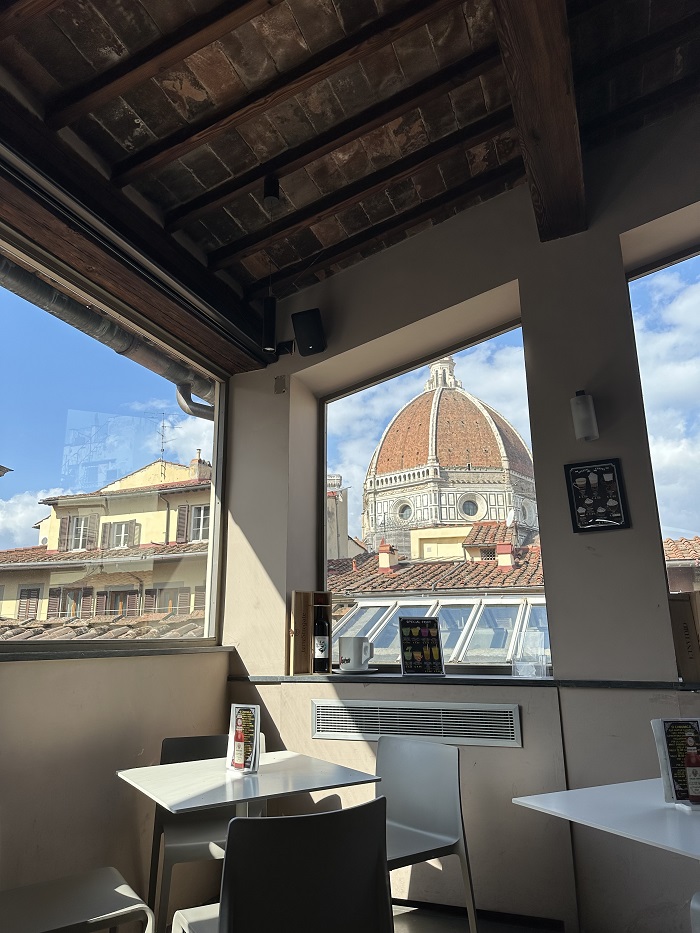 The view of the Duomo from the café in the Biblioteca Della Oblate. This is one of my favorite study spots I've seen so far!
12:30 PM
It was exam time! I had one exam today for my Cross-Cultural Psychology class. Although all the questions were short answers, I think I was pretty well prepared for the test. Afterwards, I headed home to make a quick sandwich for lunch.
2:00 PM
After lunch, I decided to go for a run. I am incredibly lucky to have the most beautiful running track, right along the Arno River! The weather was just the right temperature, even though the sky was dark with rain clouds. I jogged along the busy path for about a mile, dodging people taking leisurely walks along the way, and took a few pictures while I was out.
A picture I took on my run along the Arno River, the river that runs through Florence.
6:00 PM
After some rest and reading time, some friends came over for our weekly dinner night. In the past, we've tried making Italian dishes like cacio e pepe or risotto. Today, we were craving something with more vegetables, and something that reminded us of home. We decided to make veggie fried rice, along with a side of extra broccoli. We ate our dinner, drank white wine, and decided to watch the Hunger Games.
The vegetable fried rice I made with some friends for dinner.
8:00PM
After watching our movie for a bit, we headed to a CET soccer game. Today was the second day of the study abroad tournament, so we wanted to cheer the team on. On the way home, I stopped by one of my favorite gelato spots, La Strega Nocciola, for a cone. Finally, I went home to get some studying done. Overall, it was a pretty great day!
---