Written by Matthew Merritt (Yale University), Student Correspondent for CET Taiwan, Summer 2023
It's Sunday, July 30th, which means I'm leaving Taiwan in 6 days. Soon, I will spend a few days on my family's farm in Alabama before returning to Yale for my senior year.
Not only does it feel like just yesterday that I arrived in Taiwan, it feels like just last week, I and everyone else endured a global pandemic that fundamentally changed the ways we form and take part in community.
Time moves quickly, so I make sense of its passage by considering the different communities I have taken part in. Over the past year and a half, I've lived in Dublin, Edinburgh, New Haven, and Taipei, each for over two months at a time.
When I think about Dublin, I remember my friend Seán, who helped me explore an academic topic with which I was unfamiliar and encouraged me to take time off to celebrate my late father's birthday. In Edinburgh, I remember a coffee shop called Ilium, where each week I talked to the owner Sam, who is not much older than me and yet seems to have the essence of life already figured out. In New Haven, I remember lobster rolls, ringing bells, and friends like Kaleb, who make me feel both loved and in awe at the same time.
---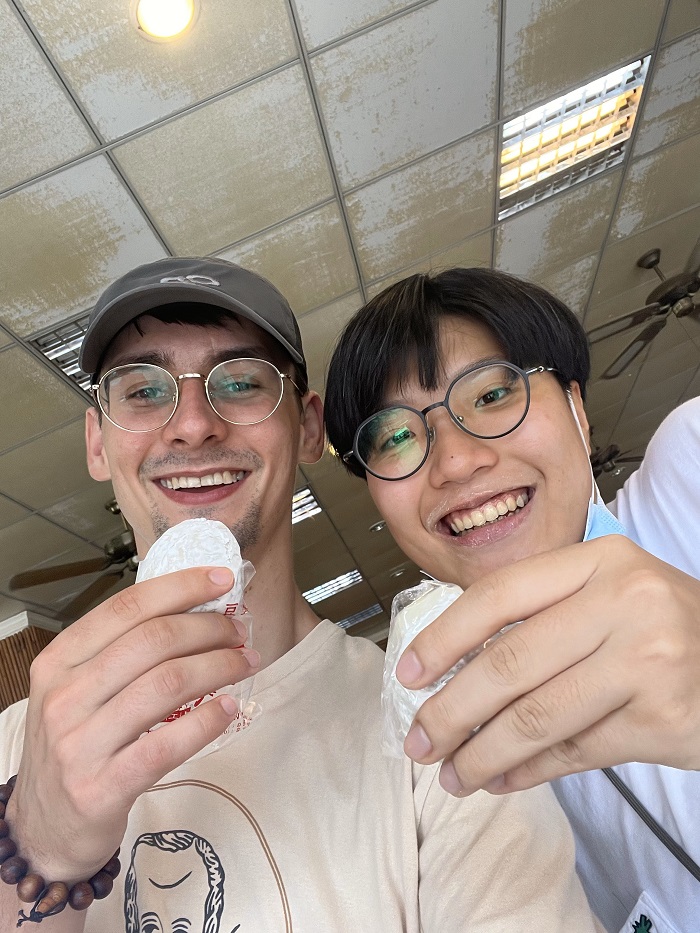 Hua and I Enjoying Traditional Mochi Balls
---
My time in Taipei is best defined by my language partner, Hua, and the two-day trip she helped organize to Hualien County. In addition to helping me navigate Taiwan, Hua took time every week to show me the best places in Taiwan to eat and help me practice speaking Chinese. She also taught me a common Taiwanese basketball game (and let me win) and made me feel a little more settled in a new place.
---
Harrowing Glimpse of Taroko Gorge
---
On our first day in Hualien, Hua and I explored the Taroko Gorge, where the Liwu River created beautiful marble canyons over millions of years. As we drove through the gorge, we stopped at Eternal Spring Shrine, built in commemoration of the 212 lives lost during the construction of Cross Island Highway that snakes through the gorge.
---
---
On our second day in Hualien, Hua and I made our way south to Fengbin Township, where we learned about the history and food of the Amis tribe, Taiwan's largest indigenous group. Despite genocide and cultural erasure during Japanese colonization in the 20th century, our guide explained, the Amis people, their religion, language, and traditions remain intact today.
Like ourselves, cultures and communities are always changing. Once I leave Taiwan, I know I will continue to reflect upon the lessons absorbed during my time here, as well as the ways in which my time here shapes my coming of age experience.
I know I must also consider the paradigm of Taiwan's beauty— its landscape and indigenous peoples— and complexity that I experienced during my short trip to Hualien. My time there with my new friend Hua helps me better contextualize the world and self I'm creating in real time with good folks.
Thank you for reading my blogs! If you would like to get in touch, I can be contacted at matthewmerritt131[at]gmail.com.
With appreciation, Matthew 🙂