Intensive Modern Standard Arabic & Jordanian Dialect
Internship and research opportunities
Electives in English or Arabic
Choose your own language pledge
Official Oral Proficiency Interview (OPI)
Out-of-class learning and assignments
CET Jordan students get top-tier intensive language instruction with unbeatable curricular customization. Enroll in two core courses and the rest is up to you—pick engaging electives in MSA or in English, take on directed research or an internship with a local organization… you even choose your own language pledge. Combined with field-based learning, language partners, and a housing setup designed to engage and acclimate you, it's a full semester of learning on your terms.
You combine two core language courses and two to three 3-credit electives to meet the recommended 15 to 18 total credits.
You are placed into one 6-credit Modern Standard Arabic course and one 3-credit Jordanian Dialect course.
MODERN STANDARD ARABIC
JORDANIAN DIALECT
Note: All core courses are front-loaded. They meet more in the beginning of the term, and taper off after that.
Choose two to three 3-credit electives to meet the recommended 15 to 18 total credits. Arabic electives are back-loaded and start later in the term after your language skills have warmed up.
Language Learning Electives
Course code corresponds with your own language level and will be determined on site. 
Arabic Content Courses
English Content Courses 
Field-Based Electives
*Your internship placement and course provide 3 credits. Class and work hours will add up to a minimum total of 150 hours.
Immersive Language Learning at its Finest
You take
MSA
, the language of the nightly newscasts, and
Jordanian Dialect
, 
the language spoken in the markets and between friends. The curriculum emphasizes learning beyond the classroom—you have a local roommate and a language partner to practice with, a language pledge, and even travel to northern Jordan for a language assignment. 
On top of all of that, you take
 an official 
Oral Proficiency Interview
 at the end of the term for written proof of what you've accomplished.
Tailor your learning to what you need. Use your weekly one-on-one office hours to workshop a tricky grammar pattern. Talk to your instructor about building a vocabulary set related to your internship. And if you're an academic year student, engage in a spring term that gives you more time to develop your Arabic to your liking. Have one-on-one discussions with an instructor, get customized grammar lessons, or dedicate more time to a topic you're passionate about with Directed Research.
If you choose to intern while in Amman, we match you with an organization that allows you to explore your own interests in a professional setting. Build your résumé with practical experience and test your language skills in a work environment. Learn to navigate a Jordanian workplace with professionalism, poise, and respect. Understand how to take ownership of your placement during the in-class component, then unpack your work experiences with peers. And by the time you're headed home, you'll have the insight and know-how to inform your future moves, both academic and professional.
Language Pledge:
Full or Limited
Decide on the language pledge that suits your own needs and learning goals. Your pledge commitment allows for further customization of your study abroad experience—shaping everything from the speed of your language progression to housing assignments, and even the extra-curricular activities you attend.
Because of precautions CET is taking related to COVID-19, your housing experience will look different from standard programming. Please see the COVID playbook page for more information. 
Your apartment is different from what you're used to in the US—from the typical furnishings to the home life culture. Sharing a space with local roommates, living in an apartment building with Jordanian families, and maintaining a pledge creates a homestay-like environment that brings language and cultural immersion out of the classroom and into your home. Whether you're cooking dinner with your roommates or navigating local at-home norms, your housing turns everything into a learning experience. 
Moving to Amman is quite an adjustment—classes are harder, your surroundings are new, and the culture is foreign—so we set you up with local roommates to help you acclimate to your new life abroad. Want to learn where to get the best fatteh (fried pita chips covered in a yogurt/tahini sauce)? Need to discuss some unexpected culture shock? Looking to practice some new vocabulary? Sharing an apartment with a local Jordanian gives you instant insider access to the city, language, and culture. 
There are plenty of restaurants and cafes within walking distance of your apartment. Be sure to try mansaf, the national dish of roasted lamb served over rice. Feeling a home-cooked meal? Have a night in with your roommate and trade cooking tips as you prepare dinner together. Try making mutabbel (eggplant with tahini) or perfecting your homemade falafel. 
Amman is the place to be—it's lively, diverse, and there's no shortage of opportunities to take your Arabic language skills for a spin. Explore the city's traditional side by shopping at the Friday flea market or browsing the Gold Souq. Or enjoy Amman's more cosmopolitan perks: visit a museum with friends or sip on Arabic coffee while befriending a barista on Rainbow Street.
Each term, the program offers different extra-curricular activities that allow you to explore Amman, experience Jordanian culture, or just unwind with your friends. Relax during a yoga session. Try your hand at sand art or Arabic calligraphy. And there's more to see on your own or with friends—have a barbecue outside the city, hike in Wadi Mujib, or attend a concert with your language partner.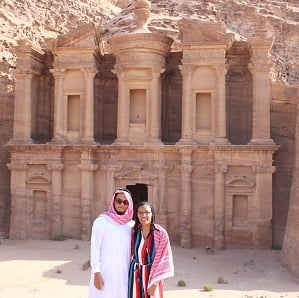 Pack your bags for a 3-day excursion outside of Amman with your cohort. Take a dip in the Dead Sea and discover that you really do float. Gaze up at the Natabean ruins at Petra. Take a sunset jeep tour through the dunes at Wadi Rum, a spectacular valley formed by massive red cliffs. Learn about Bedouin culture. At night, in true Bedouin fashion, stay up late chatting, drinking tea, and playing cards with your peers, roommates, and language partners.
As a CET Jordan student, you can opt to volunteer regularly with a local organization. Play with children being treated at the King Hussein Cancer Center, lend a hand to organizations supporting refugee communities, or help distribute food to those in need.  Make the most of your semester abroad by giving back to the community that hosts you.
Manal Yosef
Academic Director
Mazen Bernieh
Resident Director, Logistics
Ahmad AbuShaikha
Resident Director, Student Life
Of the total program fee, $14,990 goes to tuition and fees, and $4,000 goes to housing and other student life fees.
Estimated
Out-of-Pocket
Costs
Note on Medical Expenses: Students should expect to initially pay out-of-pocket for most medical care before reimbursed for expenses by GeoBlue insurance. Estimates for common expenses include: treatment for common stomach issues ($85), therapy session ($70), & visit to a specialist ($50).
Must be 18 or older at the time of program participation.
Open to students from any US college or university
GPA: 3.0 or higher preferred, but admissions decisions are made on a case-by-case basis; lower GPAs still encouraged to apply
Open to students of any Arabic level, absolute beginner to advanced
CET reserves the right to increase quoted charges at any time without prior notification, based on increased instruction costs, exchange rate fluctuation or other cost increases beyond CET's control.
Have a question? Get in touch!
Senior Student Services Coordinator
Advises on CET programs in Brazil, Colombia, Japan, and Jordan.
202.846.7662
[email protected]