One of the ways study away experiences with CET are different from a typical high school travel program is that they are strongly rooted in academics. Our pre-college programs not only give you the chance to engage with local culture, see the famous sights, and practice a language, but also allow you to contextualize what you are experiencing through a college course with structured learning, facilitated discussions, and relevant readings. 
Core Course: Intro to Global Perspectives
We've partnered with Dickinson College, a leader in global education and sustainability, to develop and transcript Introduction to Global Perspectives—a lower-division college course for our pre-college programs. You and your on-site peers, alongside all other Global Perspectives students (based in China, France, Italy, Japan, Spain, and Washington, DC) explore global interdependence through identity/power/culture, public health, environmental sustainability, and civic engagement while maintaining a summer-long discussion online—including virtual pre-departure and post-return class sessions. Each program uses its unique location to bring these concepts to life and incorporate out-of-class learning opportunities—not to mention give you unique access to your host community and country.  See the class syllabus.
Beyond the walls of the classroom, CET programs offer a holistic learning experience: class readings and discussions spill out into the city on excursions and into nightly conversations with your homestay family. This immersive educational environment means that learning doesn't stop when you leave the classroom on a CET program.
Global perspectives summer programs ask you to examine how global issues impact local communities. But you do more than study these issues…you take what you learn in the classroom and create your own plan of action for what you can do to make real, lasting change. Learn from peers around the world in your virtual core course and then apply the concepts from class in your host city through out-of-class learning and assignments.
If you're looking for a longer program experience, try out the project-based learning offered on the China Fieldwork Semester. This spring semester program gets you out in the community to understand the land, people, and society of rural Xizhou, China.
Intentionally-designed study abroad programs are meant to change your outlook, broaden your horizons, and stay with you long past your return home. CET programs offer tangible takeaways that help you succeed in high school and college, refine your educational and personal goals, and make an impact in your community.
What can you bring home from a CET program?
College credit from Dickinson College
Enhanced reading, writing, and critical thinking skills
Confidence to navigate the world
Openness to intercultural engagement
Projects and assignments that can be inspiration for future study or college essays
Exposure to different fields of study and career pathways
Increased appreciation of diversity and difference
Learning Outside of the Classroom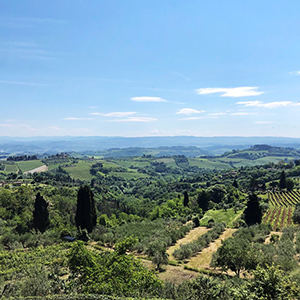 All CET programs emphasize out-of-the- classroom learning. Field-based course components bring course lectures to life. Visit a local farm outside of San Gimignano in Tuscany. Shop for fresh fruit in French at the farmer's market. Learn how Japanese officials educate citizens about earthquake safety at the Abeno Life Safety Center. Getting out of the classroom connects content to context. It reinforces course material better than any lecture or essay ever could. It gives you insight into the local community. This is learning at its best.
College Credit and Transcript
Dickinson College, a national leader in global education at the college level, is the school of record for CET high school and pre-college programs. One Dickinson credit is the equivalent of three or four semester credits. Learn more about our partnership with Dickinson College. 
You will receive a CET grade report and an official Dickinson College transcript upon completion of the program. Upon request, and for a fee, Dickinson College will send an additional official copy of the transcript to your high school and/or any college you designate. Credit transfer to high schools or other US colleges and universities is at the discretion of each institution.