20 hours/week of intensive Chinese language
Personalized, semester-long one-on-ones
Full-time language pledge
Live with a Chinese student
One-on-two drills
& small-group classes
Out-of-class learning and assignments
Overnight excursion to a new city
After several semesters spent studying Chinese in the US, it's time to refine your skills with specialized classes and individualized instruction. CET Harbin students are experienced, dedicated learners who are striving for fluency and building confidence in their language abilities. With content courses, a self-designed One-on-One Tutorial, accuracy-focused One-on-Two Drill courses, a full-time language pledge, and a local roommate who brings language practice to life at home, it won't be long before using Chinese is second nature. 
CET Harbin offers two tracks: standard and research. The research track is available only to very advanced students with the approval of the Academic Director. Students take a One-on-One Tutorial, a One-on-Two Drill course, and two content electives to meet the recommended 17 credits.
You choose your tutorial topic and the Academic Director works to find a suitable professor to assist with your studies.
You are placed into this 3-credit course with another student who is at the same Chinese level:
Note: Research track students do not take this class and instead take 7 credits of One-on-One Tutorial.
One way to dramatically improve your Chinese language skills is to study a topic that is deeply interesting to you. You design your one-on-one based around a topic of your own choosing and the CET Harbin Academic Director handpicks a professor to guide your studies on that topic for the semester. You spend the semester equipping yourself with the necessary technical vocabulary needed to delve deep and begin research projects that could develop into a thesis topic or graduate research once you're back home. 
Previous One-on-One Topics
Your One-on-Two drill course focuses on getting you out of the classroom to put your Chinese to work in the city. You might practice your new vocabulary by bargaining for fruit at a local market. You might visit a traditional Chinese tea house to understand the culture and language used in that setting. You might even interview passersby about China's internet development and online transactions. It's all about fine-tuning your pronunciation and grammar in real world settings.
In your content courses, you're not just learning vocabulary and grammar. Once your understanding in the course topic is solid, you use it to speak to experts in that field or profession. Your Business Chinese class might interview a bank manager about financial development in China, while your Classical Chinese class might visit a school emphasizing traditional Chinese culture. Language needs context to truly refine your learning, and we'll make sure you plenty of local context to reinforce your classroom lessons.
Because of precautions CET is taking related to COVID-19, your housing experience will look different from standard programming. Please see the COVID playbook page for more information. 
You and a local roommate share a dorm room with an attached bathroom. The same building also houses a shared kitchen and laundry facilities on the first floor. And in a centrally located dorm, all of Harbin is easily accessed. Your classrooms are a short walk away, the nearest subway station is a 10-minute walk, and bus stations are even closer. 
Your roommate is a CET-selected student from our host university, the Northeast Forestry University. Want to learn where to get the best guobaorou (the original "sweet and sour pork")? Need to know what mobile apps make life in Harbin easier? Curious where you can study off campus? Sharing a room with a local roommate gives you instant insider's access to the city. Your roommate may also be able to help you understand your homework so that you're never lost in the classroom.
For meals, take your pick of the budget-friendly campus cafeterias, try the nearby row of food stalls, or find your favorite neighborhood restaurant. And don't forget to try disanxian (a potato, eggplant, and pepper dish), laoding feng cake (a unique pastry cake filled with a mung bean paste), and da lie ba bread to get a delicious experience that is unique to northeastern China. Need a home-cooked meal? Have a night in with your roommate and trade cooking tips as you prepare dinner together in the dorm's shared kitchen. 
Students come to Harbin for full immersion. In this second-tier Chinese city, you enjoy a population with fewer English-speaking foreigners, a textbook accent, and an entire city that can serve as your language classroom. Learn the names of all the street food vendors. Picnic on the Songhua River and chat with passersby. Visit the mosque in Old Harbin and ask about the architecture. 
Spend an evening singing karaoke with your roommate. Shop for souvenirs in the Hongbo underground mall. Take a taijiquan (taichi) class. Visit the Daowai district to eat traditional Harbin foods and explore the Baroque architecture with a uniquely Chinese feel. Explore Stalin Park and learn about the city's Russian influences. The location of Harbin offers a Chinese experience like no other.
Take a break from intensive language study to explore China outside of Harbin's city limits. You might visit Beidaihe to enjoy the relaxing hot springs and spend a little time on the coastal beach. Make sure to see Laolongtou ("Old Dragon Head") where the Great Wall meets the sea. Enjoy worry-free travel with CET-hosted experiences that let you unwind while exploring with fellow students and local roommates.
Ren Shujing
Academic Director
Of the total program fee, $13,300 goes to tuition and fees, and $2,690 goes to housing and other student life fees.
Estimated
Out-of-Pocket
Costs
Must be 18 or older at the time of program participation.
Open to students from any US college or university
GPA: 3.0 or higher preferred, but admissions decisions are made on a case-by-case basis; lower GPAs still encouraged to apply
Open to students who have completed 4 semesters of Chinese
CET reserves the right to increase quoted charges at any time without prior notification, based on increased instruction costs, exchange rate fluctuation or other cost increases beyond CET's control.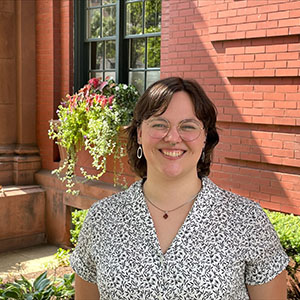 Have a question? Get in touch!
Student Services Coordinator
Advises on CET programs in Shanghai, Taiwan, and Harbin.
202.846.7648
[email protected]